Teeth Whitening
Teeth are stained by the foods and drinks we consume. Smoking further stains teeth and the natural bright, white shade becomes darkened. Teeth whitening is a successful and simple method of lightening the colour of your teeth. The degree of whiteness achieved will vary from patient to patient and with the type of bleaching process chosen.
Our Office 1-hour power whitening can whiten teeth by up to several shades, brightening your teeth dramatically to its natural shade. Your lips and gums are covered and a gel is applied to your teeth. A special light is positioned over your teeth to activate the gel, which gently penetrates your teeth, breaking up stains and discolouration. Whiter, brighter teeth in less than an hour!
Home Whitening
A whitening gel is placed in a custom-made tray which you can wear whilst asleep or for short periods during the day.
Invisible Braces
Invisalign
Invisalign is a simple affordable series of clear positioning trays, which gently guide your teeth from their present to the desired position.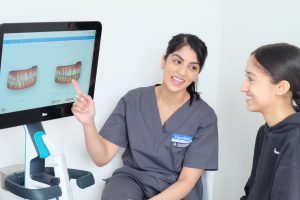 How does it work?
Believe it or not your teeth are always moving, albeit minutely. Invisalign exerts gentle pressure upon the tooth/teeth in the direction in which you'd like them to move.
Who does it work for?
Virtually everyone. Provided you are over 14 years of age and your dentist considers you orally fit enough for orthodontic treatment, Invisalign is for you.
So, why Invisalign?
Well, in comparison to existing systems Invisalign is wire free and does away with the need to bond metal onto the teeth. It is invisible, and removable, allowing you, the wearer, to eat that steak dinner, give that public speech, meet that client without embarrassment or discomfort. You simply remove, brush, floss, rinse and reinsert: Invisalign will do the rest
Smile Makeovers
1. Horizontal Symmetry: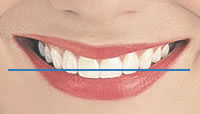 Draw an imaginary horizontal line through the centre of both your pupils and another horizontal line between the tips of your canine teeth. Ideally, these two horizontal lines should be parallel. Often, one side slopes down.
2. Vertical Symmetry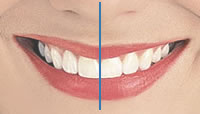 Draw an imaginary vertical line through the centre of your face. This mid-line should run through the centre of your eyes, nose and chin. Ideally, the mid-line should also run through your two central incisors thus making the central incisors a mirror image of each other.
3. Smile Width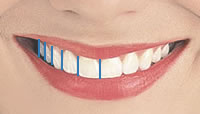 Ideally, a wide smile will show your first molar to first molar tooth. Although if you have a narrow smile you may only see the front six teeth from canine to canine.
4. Smile Line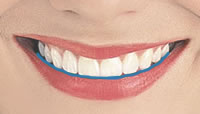 Draw an imaginary curve along the bottom of your upper teeth and compare it to an imaginary curve of your lower lip. Ideally, your smile should be curved in order to look younger.
5. Gum Line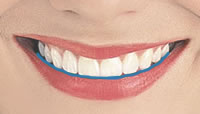 Draw an imaginary curve along the top of your upper teeth. Ideally, only the pink triangular parts of gum between the teeth show. However, some people show a lot more gum or the gum that shows is uneven, giving them an irregular gum line.
6. The Golden Proportion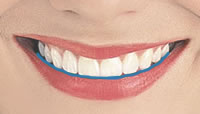 This special proportion was discovered by the Greeks and is found in many areas of nature. Ideally, the widths of each of the front teeth compared to the next follows this special proportion.
7. Tooth Proportion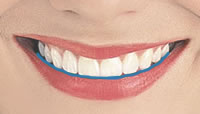 deally the width of a tooth should be approximately 80% of the length. However for patients that wear/grind their teeth, this ration is closer to 1:1 as the teeth have shortened and become squarer. This is a way to measure exactly how much tooth has been lost over the years and is often used to rebuild edges of teeth to their ideal proportions and perfect smile.
8. Embrasure Space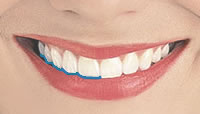 These are the little triangular like spaces between the tips of the front teeth. Without embrasure spaces, the teeth would look like flat piano keys with no character to them. Ideally, the embrasure spaces should be smallest between the two central incisors and gradually become larger as you examine teeth further into the mouth. An ideal feminine smile tends to have more definite round embrasures.
Veneers
If your front teeth are stained, chipped, or malaligned, veneers will give you a good life-like appearance with minimum tooth adjustment.
A veneer is a porcelain facing on the front of your teeth usually your top teeth, it is just like a false finger nail.
Veneers are made out of porcelain and are used mainly for aesthetic reasons.
Veneers make teeth look natural and healthy, and because they are very thin and are held in place by a special strong bond (rather like super-glue) very little preparation of the tooth is needed.
Porcelain veneers can improve the colour, shape and position of teeth.
A precise shade of porcelain can be chosen to give the right colour to improve a single discoloured or stained tooth or to lighten front teeth (usually the upper ones) generally.
Veneers can also be used to close small gaps, when orthodontics (braces) are not suitable.
If one tooth is slightly out of position, a veneer can sometimes be fitted to bring it into line with the others.
Implants
Dental implants offer a permanent solution for your missing teeth. A dental implant is essentially a substitute for a natural root and commonly it is screw or cylinder shaped. Each implant is placed into a socket carefully drilled at the precise location of the intended tooth. Often the implant can be placed at the same time as removal of the tooth, all on the same day.
If an implant has a screw-thread on its outer surface it can be screwed into position and if it does not, it is usually tapped into place. The main aim during installation of any implant is to achieve immediate close contact with the surrounding bone. This creates an initial stability, which over time is steadily enhanced by further growth of bone into microscopic roughness on the implant surface.
In order to support replacement teeth, dental implants normally have some form of internal screw thread or post space that allows a variety of components to be fitted. Once fitted, these components provide the foundation for long-term support of crowns, bridges or dentures. Click here for illustrated information.
Crowns
A crown is an artificial restoration that fits over the remaining part of a prepared tooth, making it strong and giving it the shape of a natural tooth.
A crown is sometimes known as a 'cap'. Crowns are an ideal restoration for teeth that have been broken, or have been weakened by decay or a very large filling. They can be made of porcelain or gold or a combination of these materials.
A dental crown could be used for a number of other reasons, for instance:
you may have discoloured fillings and would like to improve the appearance of the tooth
you may have had a root filling which will need a crown to protect it
it may help hold a bridge or denture firmly in place.
Bridges
Besides having dental implants, there are two main ways to replace missing teeth. The first is with a removable false tooth or teeth – a partial denture. The second is with a fixed bridge.
A dental bridge is usually used where there are fewer teeth to replace, or when the missing teeth are only on one side of the mouth. Bridges are usually made of a precious metal base.
If the bridge will show, porcelain is then bonded to the base. Sometimes, there are other non-precious metals used in the base to reduce the cost.
You should replace missing teeth for a number of reasons. Your appearance is one reason. Another is that the gap left by a missing tooth can mean greater strain is put on the teeth at either side.
A gap can also mean your 'bite' is affected, because the teeth next to the space can lean into the gap and alter the way the upper and lower teeth bite together. This can then lead to food getting packed into the gap, which causes both decay and gum disease.
Dentures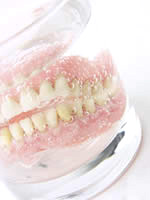 Replacing lost or missing teeth has substantial benefits for your health and appearance.
A complete or full denture replaces the natural teeth and provides support for cheeks and lips.
Without this support, sagging facial muscles can make a person appear older and reduce their ability to eat and speak.
A dental denture is an appliance which is worn to replace lost or missing teeth to enable you to enjoy a healthy diet and smile with confidence. A complete or full denture is one that replaces all of the natural teeth in either the upper or lower jaws. A partial denture fills in the spaces created by lost or missing teeth and is attached to your natural teeth with metal clasps or devices called precision attachments.
The base of a denture is called a plate and can be made of either acrylic (plastic) or metal. The teeth are normally made of acrylic and can be made to match your natural teeth. This is especially important in the case of partial dentures.
White Fillings
If the decay is not too serious, our cosmetic dentist will remove all the decay and restore the tooth with a white (tooth coloured) filling.
Our dentists can safely replace silver amalgam fillings with white tooth coloured fillings.
Dental decay happens when the enamel and dentine of a tooth become softened by acid attack, producing a cavity (hole).
More about decay detection in our Preventative Dentistry section.
Root Canal Treatment
What is root canal treatment?
Root canal treatment (also called endodontics) is needed when the blood or nerve supply of the tooth (known as the pulp) is infected through decay or injury.
Why is root canal treatment needed?
If the pulp becomes infected, the infection may spread through the root canal system of the tooth.
This may eventually lead to an abscess. If root canal treatment (RCT) is not carried out, the infection will spread and the tooth may need to be taken out.
Does it hurt?
No. A local anaesthesia is used and it should feel no different to having an ordinary filling done.
What does it involve?
The aim of the treatment is to remove all infection from the root canal. The root is then cleaned and filled to prevent any further infection. Root canal treatment is a skilled and time-consuming procedure. Most courses of treatment will involve two or more visits to your dentist.
At the first appointment, the infected pulp is removed. Any abscesses, which may be present, can also be drained at this time. The root canal is then cleaned and shaped ready for the filling. A temporary filling is put in and the tooth is left to settle.
The tooth is checked at a later visit and when all the infection has cleared, the tooth is permanently filled.
What will my tooth look like after treatment?
In the past, a root filled tooth would often darken after treatment. However, with modern techniques this does not usually happen. If there is any discolouration, there are several treatments available to restore the natural appearance.
What if it happens again?
Root canal treatment is usually very successful. However, if the infection comes back the treatment can be repeated.
What if I don't have the treatment?
The alternative is to have the tooth out. Once the pulp is destroyed, it can't heal and it is not recommended to leave an infected tooth in the mouth. Although some people would prefer an extraction, it is usually best to keep as many natural teeth as possible.
Will the tooth be safe after treatment?
Yes. However, it is better to restore the tooth with a crown to provide extra support and strength to the tooth.
Where can this treatment be carried out?
Root canal treatment is a routine dental procedure, which your dentist will be happy to do for you.
What about aftercare?
Root-treated teeth should be treated just the same as any other tooth. Remember to clean your teeth at least once a day, preferably with a fluoride toothpaste. Cut down on sugary snacks, and keep them only to mealtimes if possible. See your dentist for regular check-ups.
Anti-Snoring Appliance
Snoring is caused by rapidly moving air that causes the soft tissues at the back of the mouth to vibrate creating the sound of snoring. Mild or occasional snoring may be alleviated by simple lifestyle changes such as losing excess weight, regular exercise and avoiding alcohol, heavy meals and medication that makes you feel drowsy, especially within three hours of bedtime. A custom made dental appliance is also available to help. It is worn in the mouth during sleep and is designed to prevent the soft tissues from vibrating/collapsing and in severe cases obstructing the airway.
The device works on the principle of holding the lower jaw slightly forward during sleep in order to keep the airways open thus reducing the constriction that causes snoring. It is designed to fit your mouth accurately and comfortably. Whilst you may experience some stiffness in your jaw upon waking for the first few days you will quickly get used to wearing the device. Clinical studies show that a well made appliance will effectively reduce or eliminate snoring.
Wrinkle Relaxing Injection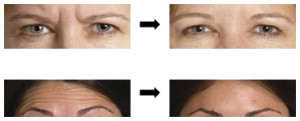 These treatments are extremely safe and give fantastic results. A free consultation is provided.
A purified protein is injected in small amounts which relaxes the muscle, creating a smoother, fresher appearance.
We can tailor the amount to suit you, most clients prefer to keep some movement so the effect looks very natural.
The most common areas to treat are the frown, forehead and crows feet (lines around the eyes)
1 area
£160
2 areas
£260
3 areas
£330
10% discount on a course of 3 sessions.
Refer a friend for a course of 3 sessions (during your course) and you both get an extra 5% discount
Dermal Fillers
Dermal fillers restore hydration to skin and are fantastic at filling lines and adding volume.
The procedure is virtually painless. If you have felt any discomfort with fillers at another clinic we would love to show you how painless it should be! We are experts in using the latest techniques and local anaesthetics so it is as comfortable as possible.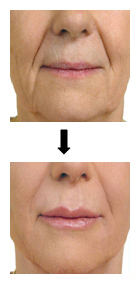 Mesofiller from £300
Superfine filler is injected into the top layer of skin to rehydrate and restore a healthy appearance. Commonly used for backs of hands, upper lip and décolletage.
Lines from £250
Fill out lines and wrinkles
Lips from £250
Add definition and volume
Smile lift from £250
A subtle use of filler to fill lines below the mouth or lift the corners of the mouth creating a pleasing smile
Chin from £350
Reshape the chin
Nose from £350
Reshape the bridge of the nose
Cheek lift from £600
Advanced fillers and techniques to lift the cheeks giving a healthy appearance.
Regular applications of filler are recommended to maintain results.
10% discount on courses of 3